This morning it looks like this here in Jersey...
It is real foggy out and drizzling. When I was walking to my car this morning, I thought I looked like this:
Please don't kill me
It was such a Halloween feel.
Talking about Halloween and horror.... I finally got to see Dexter!
Woooo!
Do any of you watch this show? I am beyond excited and the first episode back started off so freaking good. I just couldn't believe it!
We are doing inventory at work and let me tell you, the damn tension in the building is crazy. We are all just cranky. Plain ole cranky.
And to be even more random, did I mention my love for this:
yum yum in my tummy
I housed that whole thing and it was so freaking good.
And my dog loves to steal socks.
Give me that sock mama!
But how can you get mad at this beautiful face:
I'm cute. That is all.
And make sure you link up to Wednesday Walkabout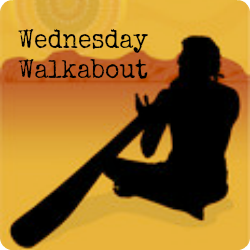 ~*~Mrs. Newlywed Giggles~*~