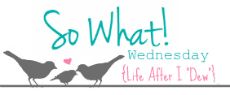 This is my first time linking up. Seemed appropriate today!
I'm saying SO WHAT IF.....
I can't wait till summer is over because I love the Fall weather
if I gained some weight. I will get rid of it, when my mind finally stops listening to society and just gets moving.
I haven't ran a single foot to get ready for The Color Run on September 1st. Yikes!
I got super dolled up on my birthday Monday night and wore an outfit that could have been worn at a lounge. Yeah... I felt great so pffff!
I am jealous of all my pregnant friends because I really really really want to have a baby.
I am jealous of my friends who have fashion sense. Seriously, I am just going to with the side that says "this is my own fashion"
I am looking forward to going to the thrift store to see which items I can score a great deal on. Seriously, some of you bloggers have awesome wardrobes and household stuff because of Goodwill stores... FOR CHEAP! Yeah, I'm jumping on that train.
People talk about me behind my back. Go ahead. I don't care. You're talking about me so that means you are thinking of mean and clearly there is something I have that you want.. because if it was the other way around, you wouldn't even bother!
I had some hershey kisses for breakfast this morning
What are you saying So What to this week?
Make sure you
link up
as well!
~*~Mrs. Newlywed Giggles~*~