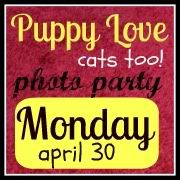 Woooooooo.... I am particpating in
Reinventing the Ordinary's
Puppy Love Photo Party link up! If you have a furbaby, join in the fun!
Prepare to be photo bombed with pictures of my furbaby, Sadie!

The picture on the left is when Sadie was about ten weeks old. Because of that picture, that's how we fell in love and decided to pay her a visit in person to see if she was going to be our puppy. The picture on the left is her at ten months!


Sadie sleeps on the bed with us. Once she figured out she can jump on our bed, I don't think we'll ever get her out of it.


Whenever I am cleaning the bathroom and using our spray handle to wash off the soap, she comes running and wants to lick the water that comes from the hose. She walks away with her whole face wet!


She had a long day.


This picture was taken at about 6AM when she is staring me down and wondering why I felt like it was a great time to take a pic and not get up to take her out to pee.


Sadie obviously picked which side of the bed she was going to sleep on and obviously either the hubs or I had to fight it out to see who would get the other side.


About a half hour after I put this t-shirt on, she chewed a hole through it.


This is where she tried to convince me that she wasn't eating the tennis ball. Even though a piece of the string is sticking out of her mouth.


This is how we spend our mornings together.

~*~Mrs. Newlywed Giggles~*~